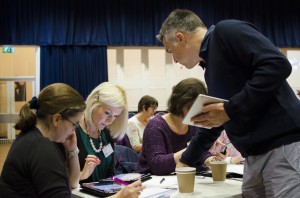 Unlocking the potential of the iPad for Teaching and Learning. A hands on, practical course giving you the opportunity to play, ask questions and discover the potential an iPad can offer teachers and students in supporting teaching and learning. Working with free apps from the digital pencil case. The iPad can do a lot more than surf the web and act as a Googling web-search tool. You will learn how to; * Use the iPad for giving students feedback quickly and effectively.
Encourage your students to use the iPads for peer marking.
Use simple apps for collaboration and traditional assessment.
Create a video project, quickly and easily.
Save the creative content off the device and make it accessible to others.
Work with traditional file types and share them.
Explore apps for assessment
Learn about the effective use of QR codes for the classroom.
The course will be led by Oscar Stringer an Apple Education Trainer, who has been working with Apple technologies in education for twenty years and has been working along side Apple for over ten years at educational events around the world. – The training will take place at Haybridge High School, Hagley, Worcestershire on 29th June 2015, 9.30- 3pm 
Unlocking the potential of the iPad Booking form- Download Here – 29th June Haybridge,
Or email Oscar here and request a booking form.
And – The training will take place at The Institute Of Education, Russell Square, London, on 30th June 2015, 9.30- 3pm
Unlocking the potential of the iPad  Booking Form Download Here- IOE 30th June
Or email Oscar here and request a booking form.
The course is for all teachers in KS 1, 2, 3 and 4, IT managers, leaders and SLT.  
Why do 60% of teachers feel the need to engage with current technology?
We can visit your school and spend a day or two taking key staff through a selection of key apps and workflows, giving them the opportunity to ask questions, discuss and develop confidence in creating a strategy for an iPad deployment. A hands on, practical iPad mobile learning event for 1 – 30 delegates.
What do we need to have in place for a successful deployment?
We can guide you through the steps and stages for creating a successful iPad deployment of any size. From a few iPads, working as a shared resource to a large scale one-to-one project. From the technology infrastructure to parental engagement, we have experience of working in all stages of successful iPad deployments in schools all over the UK.
To discuss and arrange a visit to your school or college, please contact us here
.